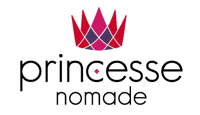 Princesse Nomade : Printed and colored clothes
Princesse Nomade entered world of THE FASHION, in spring, 2003. The universe of this French brand aims to be colored, joyful and printed. Printed matters and models are created by her team, inspired, by it reflections, stories, desires, humors…

Its floral, retro, geometrical or poetic printed matters evoke its universe a fanciful stalk. Sometimes Princess, sometimes Nomad, Princesse Nomade frees himself from trendsand wants to dress a sparkling and feminine woman who lives her life in colors.

Collections are thought and create " in the sun " in St Jean de Monts and made under the sun of Bali, by craftsmen and humanely.

Collections are sold in France as well as in the rest of Europe.